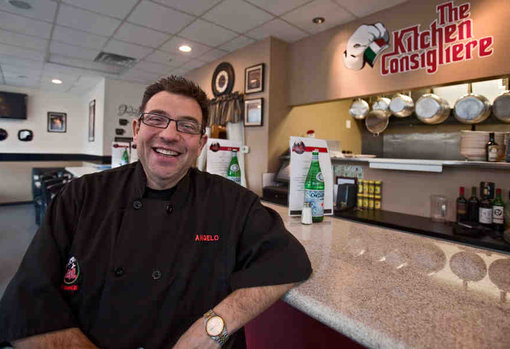 Angelo Lutz said it best when he took the witness stand in his own defense during a racketeering trial back in the summer of 2001. "I'm a cook, not a crook," he said.
While the jury and the judge thought otherwise, Angelo is now back in South Philadelphia embarking on a new career and putting that other business behind him.
Someone once said the secret to life is to figure out what it is that you love to do and then find a way to get paid to do it. Angelo Jenaro Lutz loves two things – cooking and talking. Both come naturally.
He learned his way around the kitchen from watching and listening as his mother and grandmother prepared Italian meals while he was growing up. The connection to food was familial.
His maternal grandfather, Charles P. Giunta, was the co-founder of Giunta Brothers which imported Italian food products to Philadelphia. Charles Giunta also patented one of the first noodle cutting – pasta making – machines.
His gift of gab, like his ability in the kitchen, is also instinctual. A street corner raconteur, Angelo knows how to tell a story and loves being center stage.
Born and raised in the heart of South Philadelphia, Lutz is a graduate of St. Monica's grammar school and St. John Neumann high school. While he toyed with the idea of college – he was accepted at the Wharton School of the University of Pennsylvania and took some classes at Temple University – the lure of casino gambling led him to Atlantic City.
In the early days of the casino gambling boom on the Boardwalk he worked as a dealer at Playboy, Trump's Castle and the Sands. He later worked in the carpet installing business and as a caterer where his gigs included serving breakfast and lunch daily to the National Board of Medical Examiners in Philadelphia.
He was also active with the Philadelphia Mummers, doing a star turn as the "Golden Buddha" in one of the New Year's Day parades.
Convicted of gambling and extortion and sentenced to nearly nine years in jail, Angelo doesn't try to sugarcoat his past. While he might disagree with the extortion charge, he readily admits that he was into the bookmaking scene.
In fact, government witnesses at his trial and his judge at sentencing said that Angelo knew more about how to run a sports betting operation than most of his co-defendants who clearly outranked him within the organization and whose crimes were more serious.
He spent more than seven years as a "guest" of the federal government. But all of that is prologue. Now he's doing what he loves.
An avid fan of the Food Network, he is constantly taking ideas about how to prepare food, adding a twist or a spin, throwing in some unexpected ingredient and coming up with a new dish.
Most days you can find him walking South Philadelphia's Italian market, talking with the guys who run DiBruno Brothers cheese shop or Giordano's produce store, looking for the freshest ingredients and imagining how to turn them into an unforgettable dining experience.
Everything that Angelo Jenaro Lutz has learned, everything that he has done, has become part of his personal recipe for life. And out of that he's created Cooking with The Kitchen Consigliere and The Kitchen Consigliere Cafe.
Get to Know Angelo Lutz